Software as a service, or #SAAS marketing, is highly competitive with many companies in most verticals. To succeed you might just have to act like a pirate to get your treasure chest of riches.
So to help plan for success here is a tried and tested #framework for growing your customers.
Let's walk the plank and dive right in…
AARRR the (SAAS) pirates code
[thrive_drop_caps color='orange' style='1′]A[/thrive_drop_caps]cquisition – getting them interested
You have to give people something to get their interest. So to move them to sign up you want people to register for a Free Trial.
In case you have micro-conversions (e.g. Newsletter sign up), you can breakdown #Acquisition in different chunks measuring each of your conversion (micro & macro).
Your funnel is only as good as the user you'll acquire at the first step. If you convert very bad leads at the top of the funnel, you'll get very few customers.
The best here is to work on Traffic Acquisition to ensure that you can bring a lot of qualified lead to your website. On the other hand, you can also work on Conversion Rate Optimization (CRO).
Planners Note – you don't need huge volume to acquire customers. If you only have a few hundred of very targeted visitors every month, it's perfectly fine!
[thrive_drop_caps color='orange' style='1′]A[/thrive_drop_caps]ctivation – getting them to "use the thing"
Having someone to sign up on your website is only the first step. Many people will just sign up and never use your product.
People who Activated, are using your product. They logged in and started to use your product.
The goal here is to work on your onboarding so that people who log into your product can quickly understand your value proposition and realise how your product might be able to help them in their job.
You can send email to people who never log on or try to call directly these "cold" prospects are to remind them of your offering and make them come back.
[thrive_drop_caps color='orange' style='1′]R[/thrive_drop_caps]etention – keeping them onboard
Now that people started using your product, you want them to come back regularly to use your product. They'll input more data and truly realise your Value Proposition. At that point, they'll consider buying it.
Many people will only use your product once and will never come back. The problem with them is that you waste a ton of money trying to get them to use your product just to never see them again.
#Retention measurement will vary between different apps. People will not use Facebook as much as they use their accounting app. Some apps may only expect 2 logins each month.
If you fail to retain people, try to stay in touch with them in order to keep showing the value of your product and to let them know you still exist.
[thrive_drop_caps color='orange' style='1′]R[/thrive_drop_caps]eferral – getting them to recruit others
If you can easily get people to talk about your product and to refer some of their peers, it's a big win.
The aim of this part is to count the number of people who are talking about your product and invite their friends. It's the perfect step to drive organic growth.
Startups that can drive organic growth generally win big. They acquire users who are going to become advocates and talk to other people. Once they get the wheel going, the company will grow very quickly…
[thrive_drop_caps color='orange' style='1′]R[/thrive_drop_caps]evenue – finding the treasure chest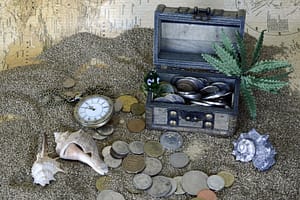 Although the number of customers you have is primary, they're not representative of your business' health. Counting your number of customers is not enough and you should also rely on other more advanced metrics. People are now using your product, they fully understand the value and pay for it. This is basically counting the number of customers that you have.
To do so, you should have a look at metrics like
Here is a quick intro video from 2007 with the creator of this framework, Dave McClure.